Wish, the $10 billion company no one's talking about
April 30, 2018, 6 min to read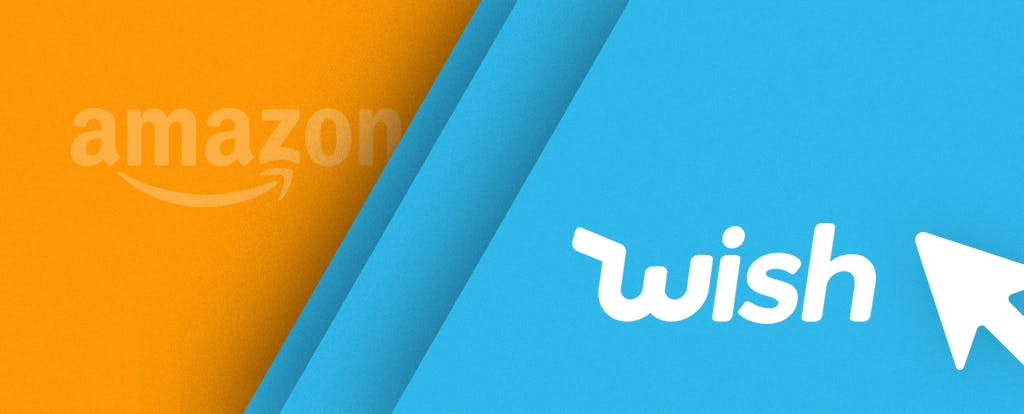 Never heard of Wish? You should have. In just seven years, this start-up has grown to rival Amazon in a market segment overlooked by everyone else: the working classes. Prioritizing price over quality, Wish is now valued at nearly 10 billion dollars. Here's the scoop on this still largely unknown giant that's got Amazon quaking in its boots.
Wish: still mean nothing to you? And yet you've probably already come across a targeted ad for one of its eccentric cut-price products on social media: in 2017 the application was Facebook's second biggest customer. Without anyone noticing, the advertiser has slid into our daily lives - and the daily lives of millions of Americans and Europeans who use it to buy anything and nothing (literally).
Wish is a mobile app that lets you discover and buy products (like gadgets, clothing, decorations and electronics) at tiny prices. A year ago, Wish became the No. 1 shopping app on Android Store and iOS. With more than two million orders shipped each day and nearly 300 million customers, the company, which was only created in 2011,  already has a reported value of 8.5 billion dollars.
But how has a little e-commerce start-up managed to grow so quickly, to the point where it can scare giants like Amazon and eBay and become the leading name in low-cost mobile shopping? And, stranger still, all without anyone realizing?
Wish and Amazon have used the same trick: the platform model
In the United States, Amazon reigns supreme in e-commerce accounting for 44% of all sales and swallowing up almost all growth in this sector. All of it? No, Wish has also enjoyed exponential growth, and partly because it relies on a very similar marketplace model.
In the new economy, platform trading is the winning model. Because they succeed in capturing much of the value produced by others on their platforms, these companies can grow a lot quicker than their competitors.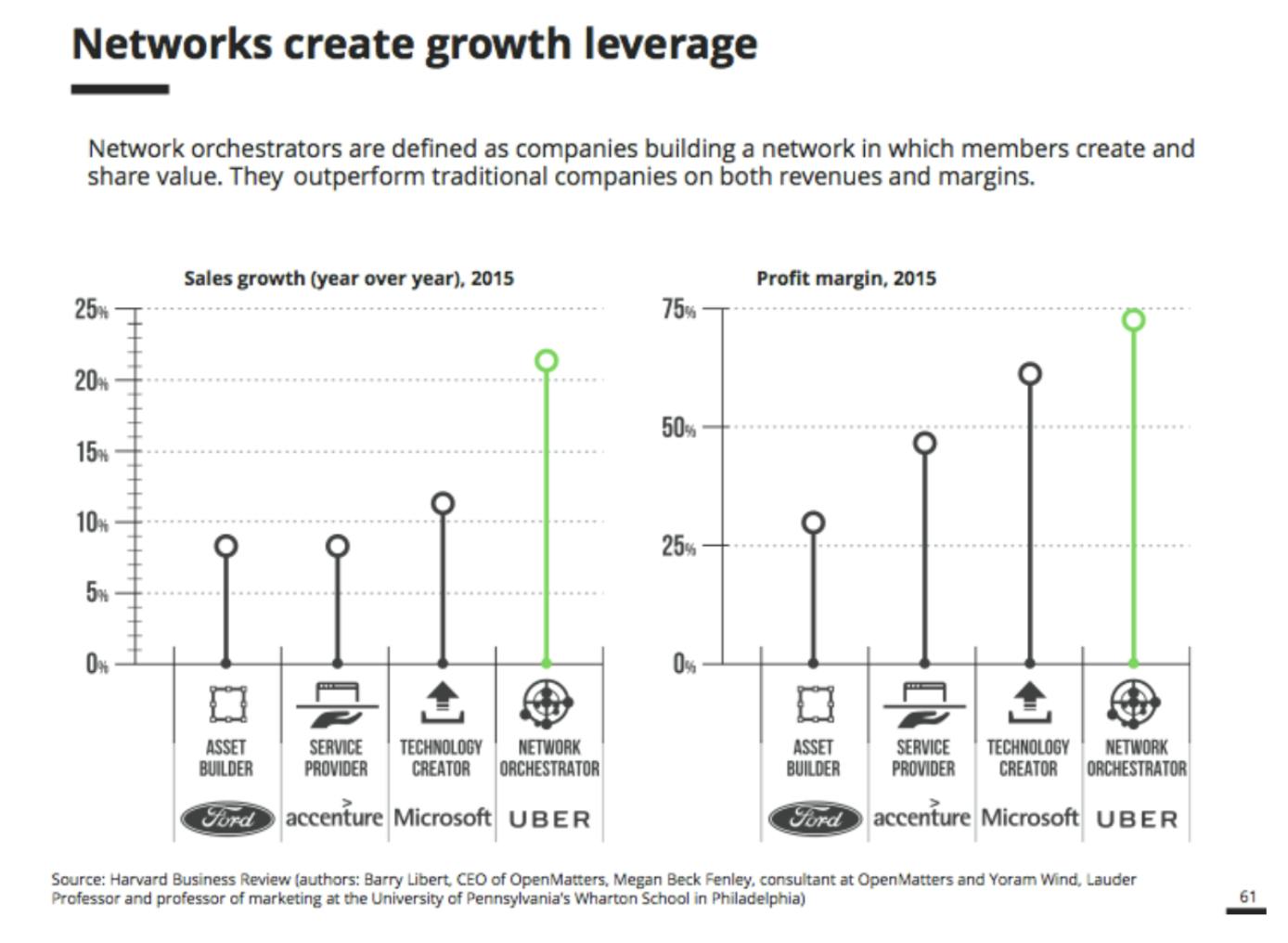 Source: our study entitled Uber, the transportation Virus
Like Amazon, the Wish platform relies on a marketplace model. Its app connects sellers and small distributers in China (almost 500,000 of them) with price-sensitive American and European consumers.
Because it doesn't buy, store or deliver the products,
Wish enjoys many competitive advantages when we compare it with a traditional retailer:
An almost infinite inventory:70 million items available through the app.
Low marginal costs: a business model based on a system of commission on transactions.
A global market:the low barriers to entry have allowed the platform to conquer around 100 countries.
Because its app has been downloaded millions of times, Wish can aggregate Chinese providers with the promise of significant coverage of the European and American markets. And then?  Network effects get to work: each extra provider attracts new clients, who themselves attract more providers. And so on.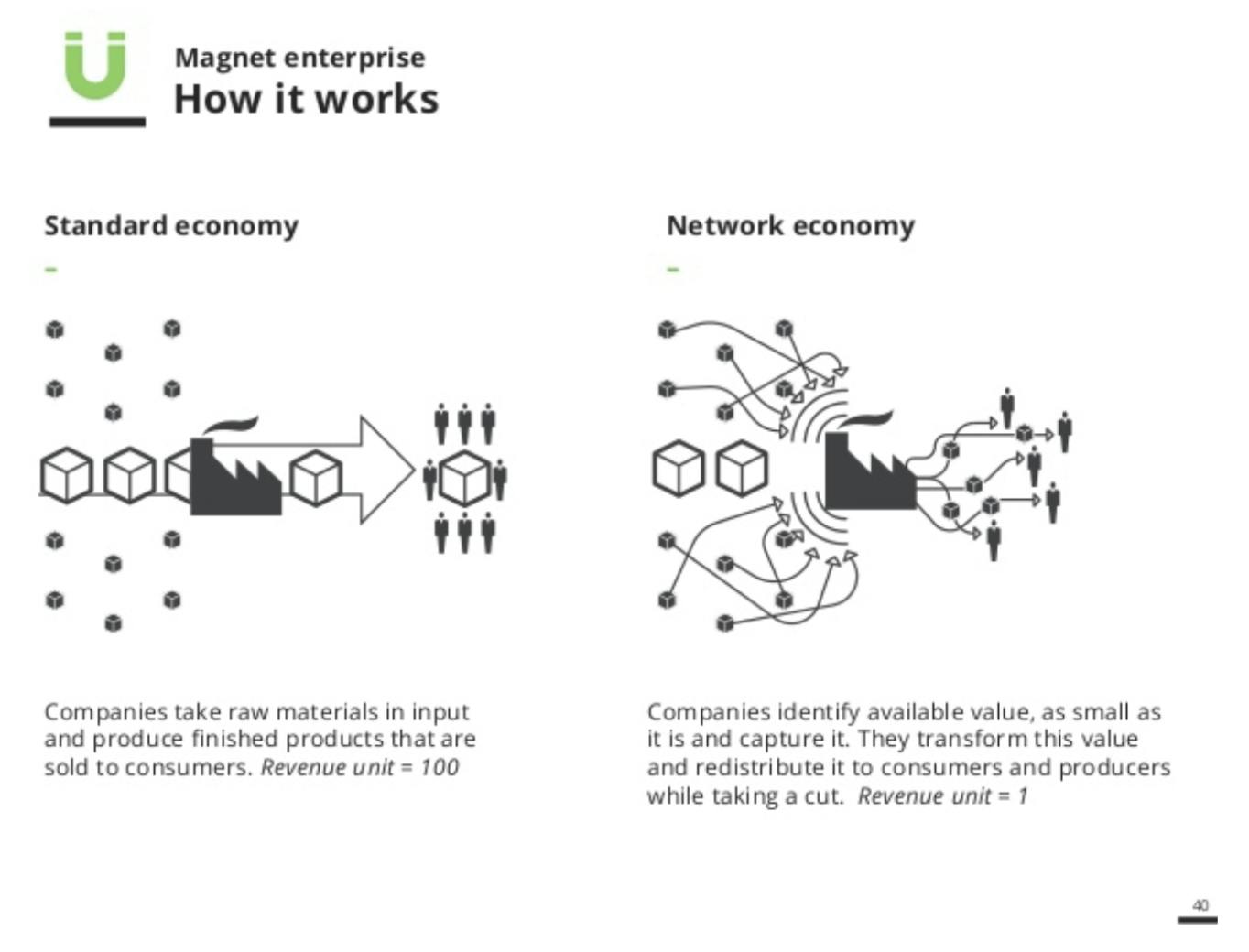 Source: our study entitled Uber, the transportation Virus
But the real reason for Wish's dazzling success in an already overcrowded market is the fact that it offers a user experience totally different from the Amazon model.
With a marketplace model similar to Amazon's, but a very different user experience, Wish has been able to reach a new target.
A brand new experience model: navigational shopping
Amazon'smarketplace is the ideal solution if you're looking for a specific product: a search bar at the heart of the site, a well laid out product catalogue, recommendation algorithms that remind you to buy more of the things you buy every day, and more.
Just like Google wants you to spend as little time as possible on its search engine, Amazon wants to show you the right product as quickly as possible.
Wish addresses a completely different need: the desire to discover products when you've got nothing particular in mind, when you're in need of inspiration, when you just fancy making an impulse buy, a gadget or a present. Just as you would wander round a shop, you can wander round Wish and let products (or promotions) surprise you.
This is what Wish calls navigational shopping. Just like scrolling through your Facebook feed or looking for inspiration on Pinterest, you can browse products that have been recommended for you, and whose prices beat the competition!
Price > Experience
Beyond the navigation interface, it's above all Wish's value proposition that differs from that of Amazon.
Amazon has a very clear order of priorities (as pointed out by the CEO of Wish):
The user experience:Amazon customers must receive their orders as quickly as possible (Amazon Prime, Prime Now), with quality packaging and a reliable all-round experience.
Product quality: Amazon offers different product ranges so that it can always offer the right product to the right user.
Price: Amazon is almost systematically 10% lower than the best price on the market.
That's how Amazon has managed to seduce a large proportion of the American population, won over by the exceptional shopping experience. But the giant is still struggling to reach the working classes, which are sensitive to price above all.
And it's exactly these people that Wish is aimed at!
Taking the opposite stance to Amazon, Wish targets low-income shoppers (below the median income) who prioritize price over brand names and who now have smartphones- in the USA and France, in any case. The sort of shoppers who think to themselves: "If it's too expensive I can't afford it, so I don't really care if it's available for next-day delivery".
Wish has simply inverted Amazon's pyramid:
1) Price: Wish's prices are lower each month, vendors are encouraged to run promotions.
2) Quality: products are mainly from China and of average or poor quality.
3) User experience (logistics and reliability): Wish's delivery times are often around two to three weeks, and some orders never arrive at all.
This differentiating experience is exactly the key to Wish's success. The company has targeted an under-served market segment, zeroing on their main priorities and pressing all the right buttons: price, inspiration, gamification and surprise, while sidestepping the e-commerce experience standards designed for high-income consumers.
And that also explains why Wish has gone completely under the radar of the tech press, and  had trouble raising funds early on.
Conclusion
Although Wish was inspired by the Amazon model, it's now Amazon that's inspired by the Wish model. After failing to purchase the company for 10 billion dollars, the Seattle giant announced the launch of a $10 & under category.
But the platform's exponential growth raises questions that go beyond mere economic analysis. Although Wish is undoubtedly a business success, what about the platform's environmental impact? The conditions in which the objects are made? The shameless use of gamification to push "useless" purchases?
The digital revolution gives companies exceptional tools to develop and connect with the world, and Wish is an example of these new opportunities in action. But given that digital giants seem to shy away from accepting the responsibilities that come with these exceptional powers, it falls to consumers to choose: what platform should I use to do my shopping, to get information, to communicate...?
So do you still fancy buying that superhero mask for your dog?